Pop art is an art movement that emerged in the mid-1950 s in Britain and in the late 1950 s in the United States. The term pop art has been applied to many visual artworks created during the mid-1950s through the 1970s, in which the imagery has been drawn from popular cultures such as advertising, comic books, movies, music, and cartoons. Pop art is a form of abstract art that utilizes aspects of mass culture and the mass production of art. Pop art is often used for irony and the critique of the mainstream culture. 
The movement is considered to be a reaction to abstract expressionism and in contrast to abstract expressionism's emphasis on the hermeneutic quality of the art. Art critic Robert Hughes stated: "pop art is the last spontaneous and collective art movement to erupt from the middle class". Pop art often takes as its subject matter banal or commonplace objects—the "low" rather than the "high" or "fine". Pop art employs aspects of mass culture, such as advertising, comic books, and mundane cultural objects. Pop art shares aspects with Dada, Surrealism, and abstraction.
Here is Amore Beaute list of 7 pop-art inspired interior décor ideas 
Chill Pill Beaded Wall Art
Unframed Pop-art wall décor for all the retro pop art lovers. We share your passion and here is my ode to the art. Eye caching detailed bead work on ivory pure linen. Each bead is hand stitched one at a time to ensure this piece of art will retain its form and stays with you for a real long time.
 Click Here 👉🏻 Beaded Wall Art Collection
Happy Pill Pillow, Pop Art Lumbar Pillow Cover
Amore Beaute chill pill pillow cover is fun and trendy! Colorful pill art is playful and bright on a white linen pillowcase. This cheeky, hand beaded pop art pattern will add a bit of humor to your space. Perk up your sofa or bed with the right pharmaceuticals. The embellished pillow shows affair with all things medicinal to your pillowscape. Take just one or follow our professional recommendation to mix the whole assortment. Enjoy shopping for your favorites from the collection.
 Click Here 👉🏻 Beaded pop art pillow collection
Hot Pink Walls
Russian designer and CG artist Dmitriy Schuka is making pop art modern with his colorful, bold interior design. He took this standard home and turned it into a showpiece with colorful furnishings, bright wall paint, and pop art pieces that take you back in time. The foyer is by far the brightest in the home with hot pink walls and a wall-sized pop art painting that commands the space.
 
Red and White Dining Table
Create colorful furnishings for more humor. Pop Art style is particularly suitable for those young and cheerful at heart. You can make your home very happy and personally and impress with bright color combinations.
 
Balloon Dogs
It is shiny, lightweight, and perfectly sized for side table next to a desk or bed. It is sure to bring joy and happiness with its cute shape and sparkling color. Best addition for Tabletop, Desk shelf, TV Stand in bedroom, living room or Office.
 Click Here 👉🏻  Balloon dogs collection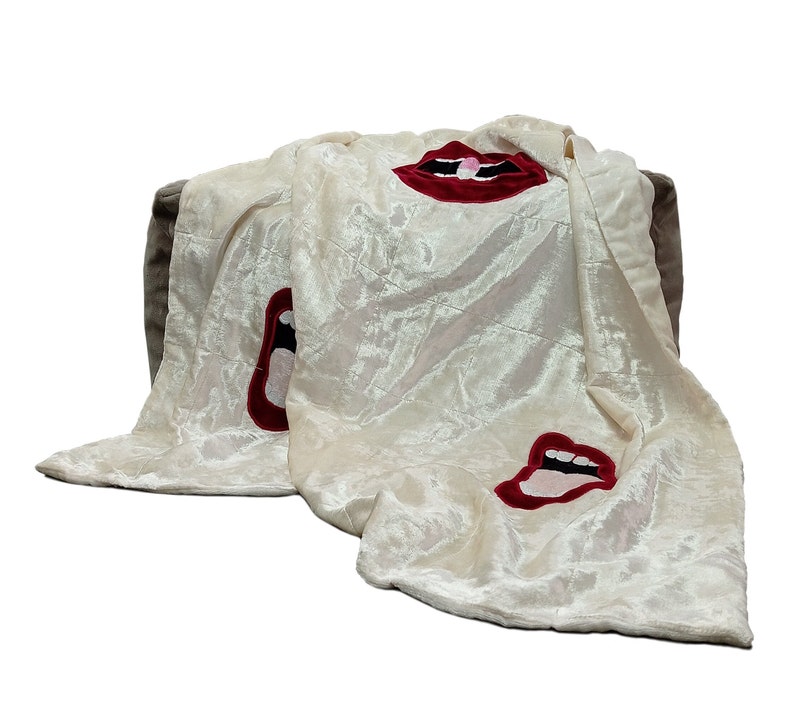 Pop-art Throw Blanket
Ivory velvet throw blanket with pop art motifs in applique and embroidery. Made from ivory velvet on both sides. The soft plush blanket has two pop art inspired motifs appliques on the blanket. The throw blanket is trendy and works well will modern or retro décor. 
Click Here 👉🏻Pop Art Throw Blanket
Pop-art Vase
"Fleurs des Frites" (Flower Fries) are a fun addition to The Resin Collection's contemporary art merchandise. A set of three (3) handmade, solid resin vases to add a POP! to the way you present your fresh flowers!
Home décor ideas with these themes was born as an expression of freedom. The homes decorated with these themes tend to be "provocative and daring, bold and colorful" expressions of personal style. It is recommended to use this style if you are looking to add a splash of color, a touch of modernism, pop culture or an expressive look to your home environment.
It is recommended to use this style if you are looking to add a splash of color, a touch of modernism, or an expressive look to your home environment. This is a trend that begs to be noticed. There are a variety technique that can be used to add a Pop Art theme in your own home.